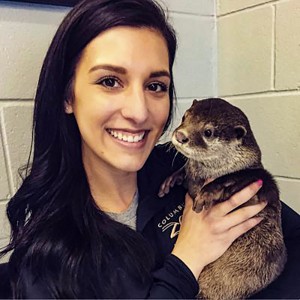 You've heard the saying "being in the right place at the right time." That axiom is so true for our latest Wadsworthian Wednesday guest Kaylee Maple.
Kaylee, a 2006 graduate of Wadsworth High School has what many people consider a "dream job." Kaylee works an Animal Program Specialist at the Columbus Zoo. She gets to work, everyday, with a unique collection of animals at the Zoo, such as baby snow leopards, sea otters and cheetahs.
To top it off, Kaylee is part of the 'travel team' that accompanies Jack Hanna on his television appearances on Good Morning America or the recently ended David Letterman Show. If you see an animal with Jack on television, chances are that Kaylee is in the background.
After graduation from Wadsworth High School, Kaylee attended college at Ohio Northern University. As luck would have it, as one of Kaylee's summer internships was ending at the Akron Zoo, (her childhood zoo) there was an internship coming available at the Columbus Zoo.
"It was an internship in the Animal Encounters Village. We do shows on campus, we do shows at schools and our outreach programming. One of that parts of the program is traveling with Jack", said Kaylee.
Kaylee's experience with animals began here in Wadsworth. "We always had dogs and cats when I was growing up. My dad is famous for saying now, you have to find a home for that stray cat, and I would say I did, it's right here. Our neighbors had horses and I used to go horseback riding. But, it was my visits to the Akron Zoo and to Sea World, when Sea World was in Ohio, that made me realize my love for animals was more than just the ones we shared our house with".
"Originally, I wanted to be a dolphin trainer at Sea World. When I was in 8th grade I had an English teacher, Miss Egan. To be honest, I don't remember what role she had in a zoo before she started teaching, but I remember she shared zoo stories with us and that helped to guide me towards a career in a zoo" said Kaylee.
And Kaylee has already had one of those 'ah-ha' moments in her career. "My very first trip with Jack was to Busch Gardens in Williamsburg, Virginia. I remember I was sitting on stage holding a baby tiger and Jack Hanna was standing next to me trying to inspire people about the love they should have for animals. I remember looking at myself and thinking how did I get so lucky. How did I get to be in this position, with someone who I grew up watching on TV that inspired my love for animals".
Remember that old axiom, right place, right time.
Our thanks to Kaylee Maple for joining us on our Wadsworthian Wednesday segment.