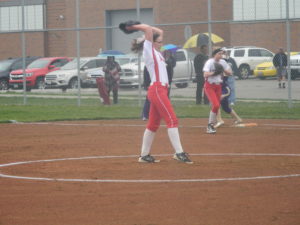 The Wadsworth Softball team got their second win of the season on Monday as they defeated North Royalton 5-3.
Lady Grizzlies pitcher Kim Crookston led the way for Wadsworth. Kim hit a solo home run over the left-center field fence in the third inning. In the circle, Crookston struck out 11 batters while walking only two. Eight of those 11 strike out victims were on called third strikes.
Wadsworth Mike Schmeltzer Senior said "Kim had her fast ball, curve, and outside curve working. She was able to hit her spots. She was in a zone and had a real nice outing".
Wadsworth scored single runs in the second, third and fourth inning. The Lady Grizzlies put two runs on the scoreboard in the fifth.
Wadsworth is now 2-1 on the season while North Royalton is 0-5.