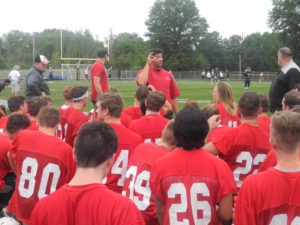 Grizzly fans, football is back. On Thursday, Wadsworth took part in 7-on-7 drills with Copley and Archbishop Hoban at Copley Stadium.
The drills lasted less than two hours, but it was a chance to see what Wadsworth head coach Justin Todd has in store for his team. There was plenty of good plays, and some not so good plays. But, as Coach Todd says this is July 13th not August 13th.
Both the offense and defense of the Grizzlies were on the field, both the varsity and the Junior Varsity. Coach Todd stood at the 50-yard line to watch his teams on the field. In case he missed something, Coach Todd had the practiced filmed and planned to share his thoughts with the players.
The Grizzlies have another 7-on-7 drill planned for Saturday July 15th at Brunswick High School with the Blue Devils and North Olmsted.