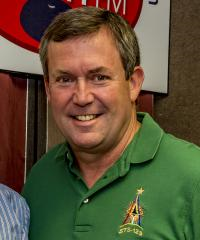 1975 Wadsworth High School graduate Mike Foreman has had a vision of planet Earth that most of us can only enjoy in pictures or on a television screen.
Foreman retired from NASA last week after working for the Federal Government for 40 years. He was an astronaut on board two Space Shuttle Missions, STS-123 in 2008 and STS-129 in 2009.
His first task in retirement was to return to the city he grew up in. Foreman is in Wadsworth this week to be part of the STEM Camp experience for 470 youngsters which is taking place at the Wadsworth Middle School. If you don't know, STEM stands for Science, Technology, Engineering and Math.
Mike's story is one of dreams and persistence. When he was growing up in Wadsworth, Foreman said "I had sights of being an astronaut when I was 8 years old. Here in Wadsworth, I decided that's what I wanted to do. I became a Navy Pilot, went to the Naval Academy, got an Engineering degree and a Masters Degree".
The persistence? Just getting into the space program at NASA. "I applied to NASA eight times before the finally accepted me. Persistence paid off".
Foreman described himself as a "high altitude construction worker". He spent 32 hours working and floating in space helping to build the International Space Station. "The colors you see in space have to be seen to be believed. I wish everyone could see the view of Earth from space. It's Amazing".
Mike Foreman has plenty of memories of Wadsworth. His memories started in the studios of Wadsworth Community Radio. Our studios at one time were part of his dad's law office. "Growing up in Wadsworth set me on my path to build a foundation for me to become the person that I am today. I credit the work ethic that I learned from the people of Wadsworth. I was able to mimic that work ethic and turn it into hard work"
Other memories? "Playing baseball in Wadsworth. Riding bikes to Ann's Pastry to get a cream stick". But, Mike is back in Wadsworth often as his mother still lives here.
From Wadsworth to Outer Space, its been quite a ride Mike Foreman, our guest on Wadsworthian Wednesday.