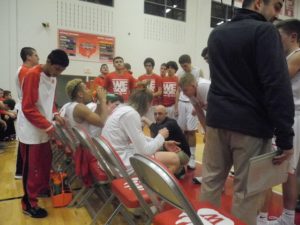 The Wadsworth Grizzlies nearly let a 14-point lead slip away in but hung on to beat North Royalton 54-50 in a Suburban League played Tuesday night at Wadsworth High School.
The win also marked the 100th coaching victory for Wadsworth head coach Mike Schmeltzer Junior on the Grizzlies bench.
North Royalton grabbed a 14-11 lead at the end of the first quarter thanks to a three by point guard Jack Bunsey as time expired in the period.
But, the Grizzlies rallied in the second quarter and took a 29-28 lead into halftime. Christian Szalay sank five free throws in the period to lead the Grizzlies.
The Grizzlies came with pressure defense in the third quarter and held North Royalton to just two points. Wadsworth put 10 points on the scoreboard to lead 39-30 heading into the final eight minutes.
Wadsworth extended the lead to 46-32 with about 3 minutes to go in the game when the Bears started pressing and connecting on threes. North Royalton closed the gap to 53-50 with half-a-minute to go and the ball.
Jack Simmons stole the ball on the baseline and Jake Justice sank a free throw to give Wadsworth its third victory of the season against three losses. The Grizzlies are 2-1 in the Suburban League.
Christian Szalay led Wadsworth in scoring with 12 points. Jack Simmons added 10. Max Lewton led North Royalton with 17 points on five-threes and two free throws.
Wadsworth's next action is Friday night on the road against Ellet.