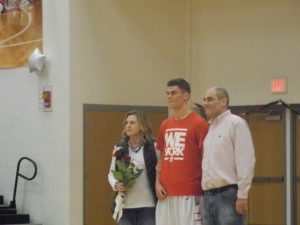 It wasn't a pretty win for the Grizzlies, but Twinsburg 57-51 on Senior Night at Wadsworth High School.
The Grizzlies started the game quickly, scoring the first 11 points. But, Twinsburg turned it around and scored the next 8 straight. Wadsworth led 12-10 at the end of the first quarter.
Twinsburg had a slight edge on the second quarter and were able to tie the game at 24 at the end of the first half.
The difference in the game was the third quarter. The Grizzlies outscored the Tigers in the third period 19-9. Wadsworth's two big men, Beau Casey and Reid Black combined for 10 of the 19 points scored by Wadsworth in the third.
Twinsburg rallied in the fourth quarter, outscoring Wadsworth 18-14 but it wasn't enough.
Casey led the Grizzlies in scoring with 12 points. Christian Szalay added 10. Michael Moore led Twinsburg with 18 points.
Wadsworth senior David Griffin was honored before the game on Senior Night. Griffin was in the starting line-up and contributed 4 points.
The Grizzlies are now 13-5 on the season and 9-2 in the Suburban League.