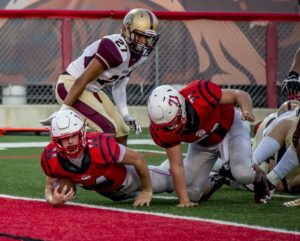 The Wadsworth Grizzlies improved to 5-0 on the season, 2-0 in the Suburban League as they defeated Stow-Munroe Falls 41-28 at Art Wright Stadium Friday night.
A big win for the Grizzlies as Stow was ranked 3rd in Division One in the Ohio AP High School Football Poll.
Wadsworth senior quarterback Joey Baughman had another big game, running for three touchdowns and passing for a fourth. Brock Snowball scored two rushing touchdowns and Christian Szalay caught a 30-yard pass from Baughman. Joey has had its hand in 22 touchdowns for Wadsworth through 5 games.
Stow tried to rally in the fourth quarter following a blocked field goal attempt from 30 yards by Wadsworth. Stow advanced the ball to the Wadsworth one yard line. But the Grizzlies defense did not allow Stow into the end zone. Wadsworth mainained its 35-14 lead.
Stow's record is 4-1, 1-1 in the Suburban League. Next week, Wadsworth will travel to Cuyahoga Falls to take on the Black Tigers.