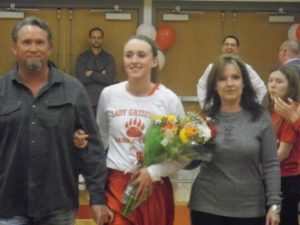 The Wadsworth Lady Grizzlies took the lead midway through the first quarter and never gave it up as they defeated Hudson 60-34 on Senior Night at the Wadsworth High School Gym.
Before the game Wadsworth seniors McKenna Banks and Olivia Chaney (pictured) were honored by the coaching staff and by their teammates for the years that they played with the Lady Grizzlies.
Wadsworth led Hudson 19-5 at the end of the first quarter and extended it to 33-16 at the end of the second period.
At halftime, members of the 1997 Lady Grizzlies State Championship Basketball team here saluted on the 20th anniversary of that accomplishment.
Wadsworth led at the end of three quarters 47-24 and coasted home from there.
Peyton Banks led 10 Wadsworth players in the scorebook with 11 points. Lexi Lance added 8. McKenna Banks had 4 points and Cheney 2 on Senior Night.
Wadsworth is now 10-10 overall and 4 in the Suburban League.