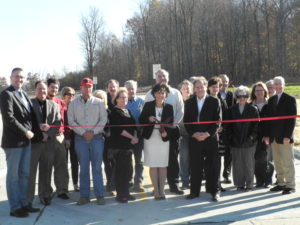 There is a new road that Wadsworth motorists can use. LaVern Drive is the new street that connects Park Centre Drive with Smokerise Drive.
Wadsworth Mayor Robin Laubaugh says the road "represents a great public/private collaboration between the city of Wadsworth and American Hospitality Group. We are fortunate to have such a dedicated partner that is continually promoting growth in our city".
The opening of LaVern Drive also recognizes the beginning of a mixed use development consisting of commercial and residential zoning. It will be called Park Center Commons. The majority of the land will be zoned C3, Highway Commercial.
Lots will range in size from 1 to 18 acres. The southern portion of the property along Park Centre Drive has highway visibility and all parcels are located within the city of Wadsworth with full utilities.
The $1.75 million public improvement project includes new streets, water, sewer, electric, communications, storm sewer, street lighting and signage, as well as the construction of sidewalks in some areas of the new street.