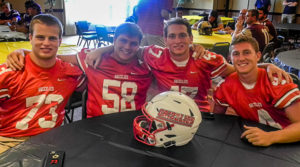 The Wadsworth Grizzlies are ranked 7th in this week's Ohio Associated Press High School Football Division Two Poll.
Wadsworth also received a first-place vote in the poll.
Here is the Top 10: Avon, Cincinnati Winton Woods, Cincinnati LaSalle, Cincinnati Anderson, Highland, Sidney, Wadsworth, Columbus Walnut Ridge, Cleveland Benedictine and Midview.
The Grizzlies are in action Friday Night when they go on the road to play North Royalton. The Grizzlies are 6-0 on the season while the Royalton Bears are 3-3. Wadsworth is 3-0 in the Suburban League while North Royalton is 1-2.