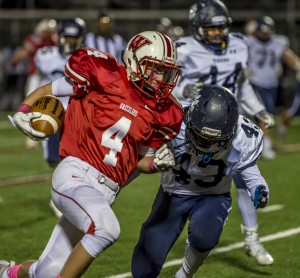 The Wadsworth Grizzlies made it six victories in a row as they defeated the Cuyahoga Falls Black Tigers 59-0 in a game played at Cuyahoga Falls Friday Night.
The scoring started and ended with junior running back Brock Snowball, who tallied three touchdowns on the night. In between, Wadsworth quarterback Joey Baughman threw four touchdown passes, two each to Mitchell Blackburn. Szalay scored a third touchdown when he returned the opening kickoff to start the second half for a touchdown.
Wadsworth also added two safeties in the game and kicker Ryan Larj added 7 of 8 extra points.
Wadsworth is now 3-0 in the Suburban League and 6-0 overall. The next game for the Grizzlies will be this coming Friday Night when Wadsworth travels to North Royalton to take on the Bears.