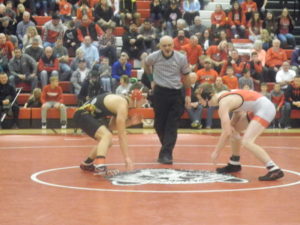 It went down to the final match. When the smoke cleared, Wadsworth defeated Brecksville-Broadview Heights in a thrilling Suburban League Wrestling match 31-29.
Eight matches into the event, Wadsworth was trailing Brecksville-Broadview Heights 26-8. The only Grizzly wins to that point were by Michael North at 126 and by Zain Tittle at 138.
The Grizzlies got things rolling at 160. Cody Surratt recorded a technical fall to close the gap to 26-13. Next up at 170 was Joey Baughman who pinned his opponent in the second period. The deficit was 26-19. Alex Jones at 182 defeated his opponent 1-0. The gap was down to 4 at 26-22.
Luke Sternad temporarily slowed down the Wadsworth express by defeating Chris Suarez 8-3. Brecksville had a 29-22 lead with two matches remaining. Wadsworth needed two wins to beat the Bees. And that's what they got.
At 220, junior Clay McComas pinned his opponent in the first period to make it 29-28.
In the final event at 285 was between Zach DeAnna of Brecksville and Jordan Earnest of Wadsworth. Earnest defeated DeAnna 5-1 to give the Grizzlies the points they needed to win.
Coming into the match, Brecksville was ranked 28th in the nation and Wadsworth was 35th.
Both teams won 7 matches, but Wadsworth with more bonus points got the win. Wadsworth wins the dual meet season in the Suburban League by compiling a 7-0 record. Brecksville finished at 6-1.