If you look in the dictionary under the word "enthusiasm,"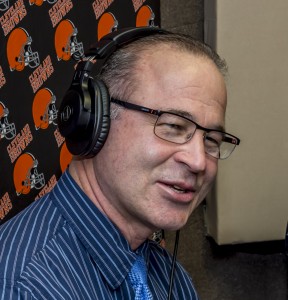 you're likely to find a photo of Steven Hadgis.
"The kids are the ones who inspire me," he said.  "I have some absolutely amazing students.  I wonder how they do everything they do."
Steven joined us on the Morning Show with Matt and Tina for dual reasons: to both talk about this past Tuesday's concert, and also because it was yet another "Terrific Teacher Tuesday."
It wasn't exactly fate that drove Steven to be interested in music, and, later, a band director.  It was his father.
"My dad was a band director for 10 years, and was a principal for 20 years.  And then he retired and ran the musicians' union for another nine years.  So music was always in my family."
While both spending time in the classroom and in performance venues, family commitments helped Steven decide that staying with just teaching might suit his schedule a bit better.  It would seem that after 31 years of teaching (with 14 of those years in Wadsworth), he made the right choice.  "Teaching really is a passion," he says.
What kinds of music does Steven Hadgis enjoy?  You would think that they would be horn-based.  And you'd be right!  But he really enjoys just about everything.
"I like everything from rap to classical'.  But I really favored groups like Tower of Power with the great horn section, as well as Earth, Wind, and Fire, and those kinds of funk bands.  But I liked the great rock bands like AC/DC and Pink Floyd, too.  You'd turn on the radio and you'd hear a plethora of different styles."
His students, too, are not uneducated about those groups, either.  "The kids that I have now they know those songs, as well as present-day."
One thing that a music teacher brings to Terrific Teacher Tuesday is a particular passion for the subject-matter.  Steven Hadgis is that sort of teacher and person, but he also says that it's easy to see that same passion in his students.
"I get a kick out of going to Central a couple days a week and it's just fun because their eyes are wide open and you get to joke around with them a little bit.  It puts it all in perspective and it's just a great time for me."
As a former Akronite who now resides in Wadsworth, what, to him, is one of the primary hallmarks of living here?  You guessed it: community!
"If you give people here something that they can appreciate, they'll support you one-hundred percent.  That's what I found out since I got here.  Wadsworth also has a rich tradition of good bands.  And Friday nights are not just a football game but they're a community event.  It's a great place to raise kids.  I've been to a number of other school districts and I would not trade my students for anything."
Being able to witness  the enthusiasm of Steven Hadgis in the studio, we're sure that his students feel the same way!  Thanks for being a part of "Terrific Teacher Tuesday," Steven!