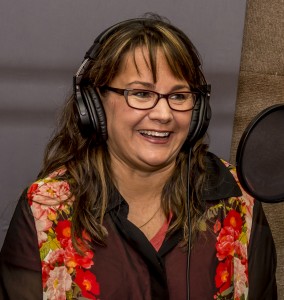 Any miedo that Karen Beavers felt prior to being a guest for 'Terrific Teacher Tuesday' easily evaporated during the morning show! To non-Spanish-speakers, miedo is 'fear', and Karen looked and sounded like she'd been behind a microphone for a long time!
The Green native and Wadsworth resident has been teaching Spanish at Wadsworth High School for 15 years. As you might expect, it's a popular language choice for students. For those who demonstrate an even greater interest, there is no shortage of outlets outside of the classroom to both experience the language and to practice it.
"These days you hear Spanish everywhere," she said. "There's Spanish radio, there's Spanish TV. With the internet, a lot of the kids play video games and they say that they spoke to someone in Spanish last night. There's so much with Spanish. The restaurants, everything."
Karen actually started being interested in Spanish because her Italian grandparents lived with her, and she wanted to be able to speak with them. However, her school didn't offer Italian, so she took the 'Spanish' route.
"Spanish was the closest thing. I liked it. I did well with it. So I just continued from there."
We even put Karen on the spot, asking her to 'describe our studio to someone who may be listening in Spain or in a Latin American country'. She effortlessly and fluently gave listeners a quick recap of the interior of our studio, dotting her description with emphasis on our many acoustic-panels covered in team fabric, including, "decoraciones de los Cleveland Browns"!
How did Karen Beavers develop an interest to learn Spanish before becoming a teacher? She did what many do: she traveled.
"I grew up traveling. I love to travel, and if you can speak the language, it makes it that much more fun."
We also had to ask Karen about what she likes so much about living in Wadsworth. As we've heard so many times from others, it all seems to come down to the community aspect. "I love the community! It's a tight community, it's small. I love the downtown area. People from Wadsworth come back to Wadsworth and they stay here."
Que bueno!  It was wonderful to speak, both in English and Spanish, to Karen Beavers, this week's guest on 'Terrific Teacher Tuesday'!