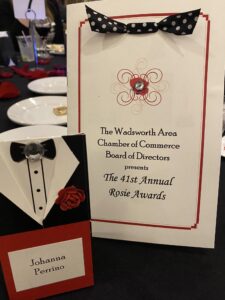 The Wadsworth Area Chamber of Commerce held its 41st annual Rosie Awards this week. The ceremony honored eight winners in various categories and was hosted by Chamber executive director Janie Parish.
Jenny Young, owner of SHE Did It Videography, took home the Rosie Award for Business Entrepreneur of the Year. The award for Outstanding New Business of the Year went to LEARN CPR, owned by Bath Township firefighter Rachel Rexroad.
The Legacy Award, recognizing the longer-standing businesses in Wadsworth, was awarded to ETE Heating and Air Conditioning and was accepted by owner Bob Engler. The volunteer organization Friends of Woodlawn Cemetery received the Rosie Award for Community Beautification of the Year.
Ashley Krause, executive director of The Children's Center of Medina County, accepted the Outstanding Non-profit Organization of the Year award on behalf of the center.
Starkey Chiropractic and Wellness, owned by Patrick and Elizabeth Starkey, received the Outstanding Business of the Year 25 Employees or Less award. The award for Outstanding Business of the Year 25+ Employees went to Luke Engineering and Manufacturing Co. and was accepted by President Meghan Bates and General Manager Jon Allen.
At this year's ceremony, a new category was added to the list of awards. The Standing Ovation Award recognized an outstanding member of the Wadsworth Chamber of Commerce. Advanced Insurance Designs co-owner Tara Bebout, a longtime chamber member, received a standing ovation as she was presented with her award.
"I was quite surprised, I really was," she said. "I just started it to meet new businesspeople, and 33 years later, I'm still doing it. I like meeting the new townspeople."
After each winner received their awards, they also received proclamations created by Lt. Gov. Jon Husted, Rep. Anthony Gonzalez, Sen. Rob Portman, Mayor Robin Laubaugh, Sen. Mark Romanchuk, Ohio Treasurer Robert Sprague and Medina County Commissioners Steve Hambley, William Hutson and Colleen Swedyk.
Parish told The Medina Gazette there are a few characteristics the chamber looks for when determining nominees and winners for the Rosie Awards.
"Really, a lot of it is community involvement and just being an upstanding business. It's a business that serves a need within the community and has made it wonderful."
Parish said the goal of the annual Rosie Awards is to highlight area businesses and inform the public of what is available in Wadsworth.
Congratulations to all of the nominees and to each category winner!