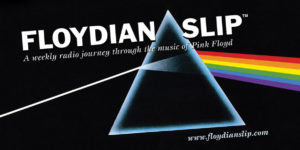 "Floydian Slip" is a one-hour, weekly radio journey through the history of the rock band Pink Floyd.
Host Craig Bailey works classic Floyd songs, deep album cuts and Floyd's unique brand of ambient segues into a seamless blend of music and sound best described as a listening experience.
Accented with succinct and thoughtful commentary, "Floydian Slip" is programming that becomes a weekly destination for classic rock fans.
Download our TuneIn app on your smart device, listen online here: https://wadsworthcommunityradio.com/listen-live/, or in town on 97.1 FM every Wednesday night beginning at 9 p.m. to hear Floydian Slip!