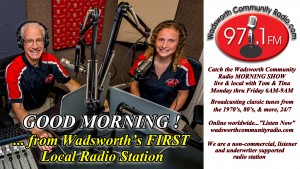 The Wadsworth Community Radio Morning Show with Tom Stugmyer and Tina Heiberg is music, conversation, and fun every weekday morning 6 a.m. – 9 a.m.
You will hear local news, weather, traffic, sports — all focused on Wadsworth,  area residents and the surrounding communities.
Tom & Tina will have regular features heard only on the morning show, including on-air interviews with news makers, and sports & entertainment personalities. They will also have a wide variety of discussions about life in our town and area….interesting and fun tidbits about life and leisure time activities. Plus, a mix of classic hits to get your morning going.
Joe Jastrzemski is the driving force behind local news, with an emphasis on what's going on in Wadsworth & the surrounding towns. Plus, he'll highlight the latest sports news, including the Browns, Cavs, Indians, Wadsworth Grizzlies, Ohio State, and Akron RubberDucks.
Follow us on Facebook and listen to some of our interviews uploaded on YouTube.