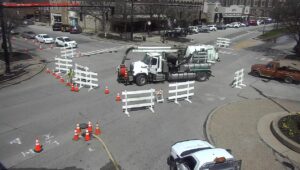 Crews continue to remedy a gas leak in downtown Wadsworth where roads were closed Friday in downtown after the leak was found coming from the Marathon gas station and into the storm sewers.
The gas leak caused a strong smell throughout downtown Wadsworth and closed Central Intermediate School on Friday.
Crews traced where the storm sewers go and it led to a pond in the southwest corner of Wadsworth. Efforts were then made to control the spill. City crews worked with the EPA to flush the storm systems.
The gas station is mandated to do further testing and resolve all issues before they can reopen, according to Wadsworth Service Director Robert Patrick.