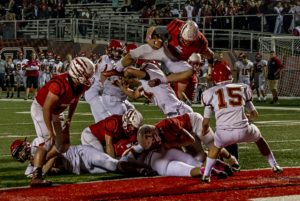 The Wadsworth Grizzlies are, at least, co-champs of the Suburban League by virtue of their 41-26 win over Brecksville-Broadview Heights Friday Night at Art Wright Stadium.
The Grizzlies are 9-0 overall on the season and 6-0 in the Suburban League. Stow-Munroe Falls and Hudson are both 5-1 in the League with one game left to play. Wadsworth plays at Hudson next Friday. If the Grizzlies win, they would be Suburban League by themselves.
It was a struggle for the Grizzlies against Brecksville. The game was tied at the end of the first quarter at 14. Wadsworth running back Brock Snowball scored both TDs in the first period.
Grizzlies Quarterback Joe Baughman completed two touchdown passes to Christian Szalay in the second quarter to give Wadsworth a 28-20 lead at halftime.
Snowball scored the only TD in the third quarter on a one-yard run. For Snowball it was touchdown number 20.
Baughman scored the final TD on a one-yard run in the final minute of the fourth quarter.
Brecksville's record is 4-5 overall and 2-4 in the Suburban League.
Wadsworth had 21 first downs, 247 yards rushing and 172 yards passing in the game.