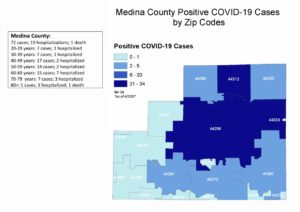 In an email Friday afternoon, the Medina County Health Department decided to release data on the number of infections in each zip code of the county. You can also visit www.MedinaHealth.org to see the zip code data and curve maps, along with other useful information about the virus and "stay at home" measures.
"Please keep in mind: this data does not portray the full infectivity level in Medina County," said health commissioner Krista Wasowski in the email. "COVID-19 is widely community spread and testing is extremely limited. Testing is reserved for only the sickest and we know that there have been many people who have recovered at home. Please assume that all areas are at risk."
The health department says they understand and realize the past several weeks have been very difficult for many people. "We at MCHD hear you, and we are working 7-days a week, around the clock to help you through the coming weeks," said Wasowski. "We take every call and read every email that comes in to us. An individual response back to each caller with an update is not always possible, but I want you to know that a team gathers more than once daily to review and respond to concerns received. We all care for you and thank you for continuing to do your part to help stem the spread of this disease."
Schools across the state are closed through May 1. Governor Mike DeWine also ordered Ohioans to stay at home through the same date.