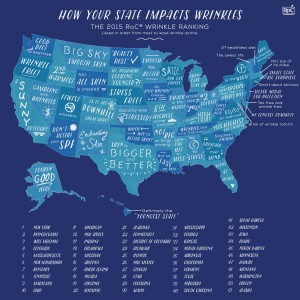 When we think about where we'd like to live, lots of things come to mind. We want to know about the weather, what the job opportunities are like, the feel of the city, the cost of living, if there are lots of available men, you know all the important things. But something we hadn't considered? How much the city could age us.
That's right, some places are actually better for your skin than other places. Who knew? A new study done by RoC skin care has figured out the states that are most harmful to your skin based on lifestyle, occupational and environmental factors. They looked at influences that could raise or lower your chance of getting wrinkles and ranked each state in a "wrinkle index" that measures the state's "vulnerability to skin damage and premature aging."
Of course, UV exposure was a big factor, but other things that made a difference were daily commute time, geographic elevation, ozone pollution and stress levels. Here are some of the results:
– New York came in at number one due to being "dissatisfied with life" and "lacking emotional support." And the fact that it has the second-longest commute time didn't help.
– Believe it or not, states that are sun-soaked like Hawaii (#47), Mississippi (#31) and Louisiana (#29) have the lowest rates of skin cancer and aren't even in the top 25 most wrinkle-prone states!
– Washington, D.C. is right in the middle. It has the lowest rate of skin cancer, but the ozone pollution, long work weeks and binge drinking all have negative effects.
All That Sunshine is Serving Them Well: States such Hawaii (Ranked #47), Mississippi (Ranked #31), and Louisiana (Ranked #29), while considered to be the sunniest states, actually have the lowest rates of skin cancer and averted being ranked in the top 25 most prone wrinkle states.
High Health Alert South of the Mason-Dixon: Southern states such as West Virginia (Ranked #3), Tennessee (Ranked #8) and Kentucky (Ranked #7) ranked in the top 10 due to their generally poor diet and high percentage of smokers.
Most Wrinkle-Prone States in America:

1 New York
2 Pennsylvania
3 West Virginia
4 Colorado
5 Massachusetts
6 New Hampshire
7 Kentucky
8 Tennessee
9 Maryland
10 Ohio
11 Michigan
12 New Jersey
13 Indiana
14 Oklahoma
15 Missouri
16 Arizona
17 Rhode Island
18 Nevada
19 Virginia
20 Wyoming
21 Alabama
22 Connecticut
23 District of Columbia
24 Delaware
25 Illinois
26 New Mexico
27 Georgia
28 Utah
29 Louisiana
30 Maine
31 Mississippi
32 Florida
33 Kansas
34 North Carolina
35 Arkansas
36 California
37 Vermont
38 Texas
39 Nebraska
40 South Carolina
41 South Dakota
42 Wisconsin
43 Iowa
44 Idaho
45 North Dakota
46 Minnesota
47 Hawaii
48 Montana
49 Washington
50 Oregon
51 Alaska