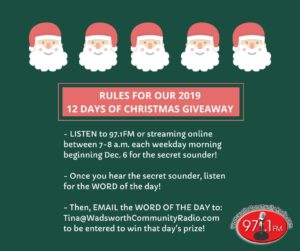 The cold has arrived and it's already December, which means it's that time of year where we gear up for our annual 12 Days of Christmas giveaway here on Wadsworth Community Radio!
This year, we have changed the rules. Instead of doing our giveaways via social media, we invite you to listen to 97.1FM and streaming online and via your smart devices (by downloading our app), each weekday morning, between 7-8 a.m., for the secret sounder.
When you hear that sounder (hint: it's the intro to Tina's favorite Christmas song about a very large animal 😉, that will give you a few seconds to listen for the WORD OF THE DAY so you can write it down.
When the word of the day is announced on-air, send Tina an email (tina@wadsworthcommunityradio.com) with the WORD OF THE DAY in the subject line or email body to be entered for a chance to win the day's prize/prize pack!!
Each day's prize/prize pack will be previewed via social media the day before so you can set a reminder to catch our family-friendly and fun morning show and listen for the secret sounder and word of the day should you be interested in winning the specified item(s)!
Additional contest details:
*Winners must be 21 or older to enter.
*Prizes must be picked up within 3 days of winning, or prize will be forfeited.
*One winner per household for duration of 12 Days of Christmas contest.
*Wadsworth Community Radio reserves the right to determine eligibility should special circumstances arise. All decisions are considered final and binding.
Have fun, good luck and MERRY CHRISTMAS!
We have so many wonderful prizes and would like to thank every single person and organization that has graciously donated items for our giveaway so we can bless our listeners.
THANK YOU to our prize donors:
Valley Cafe
The Akron Zoo
Blue Heron Brewery
The Akron Civic Theatre
Stan Hywet
Boston Mills/Brandywine
Rylon Printing
The Village of St. Edward
The Makery and The Farm Stand
Great Oaks Cinema
Author Tony Agnesi
Kathryn's Craft Closet
Scene 75
Dave & Buster's
Splash Harbor/Comfort Inn Bellville
The Galaxy
Ann Gregory Decor
The Great Lakes Science Center
—————————-
We are so thrilled to give back each holiday season, and throughout the year, to this amazing community! In the past 4.5 years we have been broadcasting, we have been able to gift listeners with a total of $9,000 worth of prizes! Each prize during the 12 Days of Christmas 2019 has a value of at least $50, with most $100+.