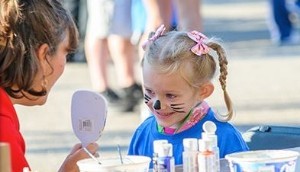 On this fabulous spring weekend, there is so much fun for the whole family Friday, Saturday and Sunday (March 20-22, 2015)! Here goes…
St. Paul's Episcopal Church on West Market Street in Akron is hosting its seasonal art show. You'll see repurposed mixed media art all month long and you can view it all for free. More info here: http://stpaulsakron.org/
It's the season of Lent and that means fish fries are popping up around town. Every Friday through Easter weekend, you could enjoy a Lenten Fish Fry at Saint Ambrose Parish in Brunswick, the American Legion Lodi Post 523 and Brunswick's United Methodist Church.
– Saint Ambrose Parish fish fry is from 4:30 p.m. – 7 p.m. Fridays through Easter weekend. Visit www.stambrose.us/fishfry/ for the detailed menu and pricing. The parish is located at 929 Pearl Road in Brunswick.
– Lodi Post 523 of the American Legion hosts an all you can eat fish fry from 5:30 p.m. – 7:30 p.m. each Friday through April 3. Chicken dinners are also available for $6.75. Fish fry costs $7.75. All dinners come with coleslaw and choice of fries, onion rings or hush puppies. Address: 120 Bank Street – Lodi, Ohio 44254. Call  330-948-1523 or email lodipost523@gmail.com for questions. (The Lodi American Legion post is also hosting a Coats for Kid's spaghetti dinner at the Medina County JFS/CSEA on Sunday. For more details, email: lodipost523@gmail.com or call them at (330) 948-1523).
– Fish fry dinner at Brunswick United Methodist Church each Friday through April 3 from 5 p.m. – 7 p.m. Menu and details here: http://brunswickumc.org/
Perhaps you're looking for a sweeter event to attend, and if so, look no further than the Fulton Farm Maple Syrup Tour & Pancake Breakfast on Saturday at Buffalo Creek Retreat. The 90 minute tour costs $6. More info: http://bit.ly/1FMvCye
Watch exciting radio-controlled airplanes at the northeast Ohio Model Plan Festival at the University of Akron Stile Athletic Field House on 298 S. Union Street. It's $5 per person (kids are free) to see life-scale models and whimsical scratch-built creations, precision aerobatic machines, plus drones and helicopters. Parking is free. More details about the weekend-long event here: http://www.ohioelectricfly.com/
Hike for the Health of It at Medina County Parks. This is a hiking club for adults who can hike four to five miles at a brisk pace through park trails. It begins at Buckeye Woods Park at 6335 Wedgewood Road in Lafayette Township. Meet at the pond shelter. The hike is from 9 a.m. – 11 a.m. on Saturday.
Now through March 28  the Cleveland International Film Festival presents the newest and best films from around the world. Join CIFF in Akron on Friday and Saturday for the Knight and Day. They will screen nine films in three locations. Screening locations here: http://www.clevelandfilm.org/festival/events/knight-and-day-in-akron
It's NEOSonicFest all week long! The Grammy Award winning Cleveland Chamber Symphony (CCS) presents the second annual NEOSonicFest, a festival of new music focused on recent compositions from Northeast Ohio and beyond. It runs March 20-28. NEOSonicFest believes it must push boundaries and explore new and experimental artistic ideas for the community to thrive.  All the info: http://neosonicfest.org/
Looking for a great deal on children's clothes and toys? You're in luck! It's the Big Red Wagon spring sale in Medina on Friday and Saturday at the Medina County Fairground's Community Center at 735 Lafayette Road. Admission and parking are free. Details: http://www.thebigredwagon.com/
Sunday is World Water Day, a day to turn our attention to the global water crisis. Travel the globe at the Watershed Stewardship Center's annual World Water Day event and have a blast learning about the role water plays throughout the world and in your neighborhood. This free event features wagon rides, entertainment, exhibits, and crafts for the whole family. The event is Sunday – World Water Day – from noon to 4:30 p.m. Location: 2277 West Ridgewood Drive in Parma. More details: http://bit.ly/18OhrMk
Or you could choose to join me tonight (March 20) at the ClearBlue Global Water Project (www.clearblueproject.com) fundraiser hosted by Cornerstone Church located at 578 Killian Road in Akron. Funds raised at this dinner and raffle will go toward installing wells in a village in Kenya and Zimbabwe. There will be a powerful water demonstration, incredible items to bid on (including Kalahari tickets and club seats to a Cavs game) and an overnight stay in Sugarcreek. The dinner, which includes fried chicken, jojos, rigatoni,  roll, salad, dessert and drink) is $9 for adults and $3 for kids ages 4-12. Children under 4 are free.
You could also take the family to the Shaw JCC in Akron to enjoy inflatables, face painting, fun activities and food. The fun begins Sunday afternoon and is free. The Shaw JCC is located at 750 White Pond Drive in Akron. More info: http://bit.ly/1Fd7AxK
Don't forget about supporting the Wadsworth High School drama club as they present the Addams Family Musical. Tickets are less than $10. The show begins Friday and Saturday at 7:30 p.m. in the James R. McIlvaine Performing Arts Center. Details: http://bit.ly/1EAjuPp
Several Easter-related events are going on around town, including the Peter Cottontail Express Train Rides at Lodi Station Outlets, 9911 Avon Lake Road from noon to 4 p.m. (weather permitting).
Get your picture taken with the Easter bunny at Beldon Village Mall, participate in an Easter scavenger hunt and photo op with Peter Cottontail at Chapel Hill Mall, or  have your picture taken with a bunny at the Gallery Studio in Massillon. Call (330) 833-3999 to make an appointment. Package photo price: $34. Location: 2897 Aaronwood Avenue NW in Massillon.
On Saturday and Sunday, you could have breakfast with the bunny at the Akron Zoo. Times: 9 a.m. – 11 a.m. each weekend day.
There's a free Easter egg hunt at Jackson Township North Park – 7660 Fulton Drive NW in Massillon on Saturday beginning at 11 a.m.
You may choose to partake in an underwater egg hunt at the Massillon Recreation Center – 505 Erie Street N in Massillon – on Saturday from 1 p.m. – 2:30 p.m.
Another aquatic egg hunt at Macedonia Family Recreation Center – 1494 E. Aurora Road – on Saturday from 1 p.m. – 3 p.m.
And for all of my fellow scrapbooking friends, you could get a free 8×8 photobook from Shutterfly this weekend! Enter code 1FREEBOOK at checkout.
Have a happy, hoppy, springy weekend!!!
-Tina