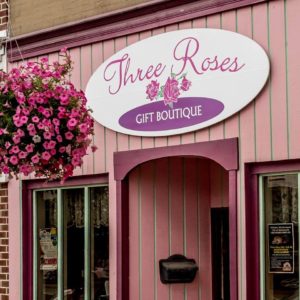 After 12 years in the pink store, on the square in downtown Wadsworth, Three Roses Gift Boutique will soon close its doors for good.
Owner Diane Ollom said the final day for sales will be May 31. All merchandise, including Kameleon Jewelry, clothing, seasonal items, handbags and more are 50% to 75% off through the store's final day.
"I have some health issues that need to be addressed, forcing me to retire earlier than I want to," Diane said during our interview Thursday afternoon.
Diane plans to take the summer off and then find a part-time job.
"I am sad this has to happen and I will miss all of my customers so much," she said.
Three Roses is named after her husband, Jack, and their two children — all of whom makeup her three roses.
During her final week of sales, May 28-31, Diane will have a different type of celebration, including prizes and drawings, each day.
Over the years, Diane has been active in helping organize successful downtown Wadsworth events, most notably the Craft and Herb Festival. She's also been an active participant in First Friday events and has always been among the first to donate gift cards or merchandise to the many events and organizations in town for various fundraisers. Diane is also part of the Buds and Bloom Garden Club in Wadsworth.
On a personal level, I've enjoyed my chats with Diane, her hugs and fun personality. And her knack for decorating is second to none. Every time I have walked into this beautiful place, my eyes have been in awe and time seems to slip away, as I've gotten lost looking at the many unique and beautiful boutique items.
From all of us at Wadsworth Community Radio, we wish you simply the best with your health and with the next chapter in your career. Please, don't be a stranger!