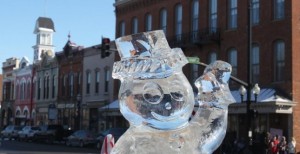 It's the 22nd annual free Medina Ice Festival this weekend. Enjoy four days of frozen fun as one of Medina's favorite events returns to the historic Medina Square. More than 50 sponsored carvings will be on view beginning Friday afternoon and going through Monday afternoon.
Each day, more works of frozen art will be added to the competitions. Visit at night and see each sculpture illuminated.
Medina Ice Fest: http://www.mainstreetmedina.com/2016-medina-ice-festival.html
——-
You could partake in the grand opening events at Rock Mill Climbing in Akron, the areas first adventurous boulder climbing, yoga and fitness facility. Kids and adults of all ages can enjoy yoga, the climbing wall (without a harness), and a slew of other fun events.  Check out the Facebook invite here: https://www.facebook.com/events/184801235214746/.
——-
If you have a monster truck lover in your family, you won't want to miss Monster Jam 2016's amazing show. You could also consider taking part in the pre-show pit party to get up close and personal with the monster trucks and even get autographs from the drivers. It takes place at The Q on Feb. 13-14.
——-
At Lowe's, you can create a free Valentine's Day picture frame. It begins at 10 a.m. on Saturday.
——-
Enjoy a free Puppet Show: Mindy Mouse Finds a Flower at the Medina County Park District. For ages 4-10, Mindy Mouse discovers the most beautiful flower in the park and brings it home. After the other animals see her flower, they decide they need to have their own flower to show off in their homes and start digging up the park looking for them. Find out what happens at this hilarious puppet show. Afterwards, kids can enjoy making a craft. Registration is required. Children must come with an adult.
The event is Saturday from 2 p.m.-  3 p.m. at Wolf Creek Environmental Center, located at 6100 Ridge Rd.
——-
A Las Vegas style stage variety & illusion show, led by world record holder Rick Smith, Jr., will take the stage at the Brunswick High School Performing Arts Center, 3581 Center Road on Feb. 12 at 7 p.m. Performers have been featured on the Ellen Degeneres Show, America's Got Talent, the Tonight Show & Shark Tank. Tickets are $15-$25 and can be purchased online at MAGIC!  Proceeds benefit Huntington Elementary School.
Best Sled Riding Spots: http://bit.ly/1zfJaAQ
Things to do on Presidents' Day: http://bit.ly/1KfsCQl