Senate Presi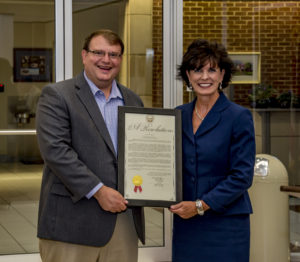 dent Larry Obhof (R-Medina) yesterday presented Wadsworth Mayor Robin Laubaugh with a Senate resolution in recognition of her being named the 2018 "Ohio Mother of the Year" by American Mothers, Inc.
"This honor is a fitting tribute to Mayor Laubaugh," said Obhof, who presented the resolution Tuesday at the Wadsworth City Council meeting. "She has distinguished herself as a committed and caring individual, not only to her family but also to the Wadsworth community. She is truly a servant-leader, and her example encourages all of us to be compassionate, responsible and productive citizens."
Laubaugh, a mother of four and grandmother of six, is currently serving her third term as Mayor of Wadsworth.
More information on the award she received can be found here.