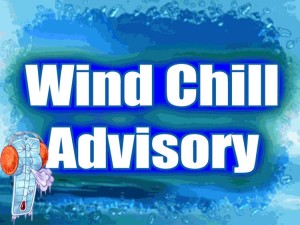 Old Man Winter is here and will stick around for the weekend. We have a Wind Chill Advisory going into effect at 10 p.m. Friday night through 10 a.m. Sunday, which is Valentine's Day.
The National Weather Service says wind chills will dip below minus 10 degrees and could get as low as 20 below zero. Brrr!!!!
These dangerous temperatures can lead to frozen pipes, frostbite and hypothermia. Keep pets inside and don't stay outside for more than a few minutes. And if you have to go outside, use common sense: dress warm, wear gloves, a hat, jacket, scarf, etc.
An Arctic air mass will bring Lake Effect snow late Friday afternoon, continuing through Saturday. Moisture from Lake Huron could enhance the snow showers and lead to some intense snowfall bands Friday night. Interstates 90 and 79 could see an impact from the snowfall.
Strong northwest winds will develop over the entire area Friday afternoon and evening.
Latest weather forecast for Wadsworth: https://weather.com/weather/today/l/USOH0991:1:US