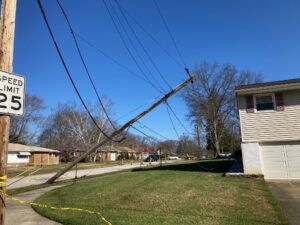 Crews are working round-the-clock to restore power to some still in the dark from the weekend windstorm. Wind gusts from Saturday (March 25) exceeded 60 mph and swept across the entire state.
Some 29,000 residents are still impacted, though the number is changing rapidly.
Workers continue to restore power as quickly and safely as possible. FirstEnergy expects to have service restored to the majority of customers by Wednesday (March 29) at 4 p.m.
Meteorologists reported pea-sized hail through the area with the rain and thunderstorms.
The windstorm was caused by a low-pressure system that moved through Detroit. As the system got lower, winds got stronger.
The Ohio Turnpike banned high-profile vehicles from traveling on the 241-mile toll road Saturday until 8 p.m.