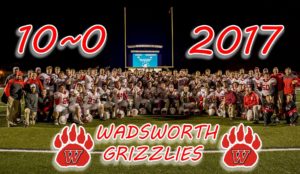 The All-Northeast Inland District all-star football teams were announced on Monday by a group of media professionals. Coach Justin Todd and 11 players from this year's Wadsworth Football Grizzly were honored by the panel.
Coach Todd shared the Coach of the Year honors in Division II with Tony Gotto of Barberton.
5 Wadsworth players were named to the First Team in Division II. They are wide receivers Christian Szalay and Mitchell Blackburn, offensive lineman Clay McComas, defensive end Joey Fernholz and quarterback Joey Baughman. Joey was also named offensive player of the year for the Northeast Inland District Division II.
Making the second team were running back Brock Snowball and linebacker Mason McMillen.
Named honorable mention were defensive linemen Teon Pickett, linebacker Alec Miller, offensive lineman Dylan Miller and defensive back Brett Randolph.