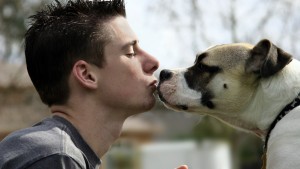 We've all been focusing on killing bacteria so we don't get sick, but now scientists are telling us that we should be working just as hard to create a "microbiome" and we do that by surrounding ourselves with "beneficial bugs."  Dr. Charles Raison, professor of psychiatry at the University of Arizona's College of Medicine recently told ABC News that the bacteria can impact your brain and immune health.  Bacteria helps with digestion, boost our immune systems and even improve our moods.  So how do you get the good bugs?  Here are seven habits that are actually good for you.
Kissing Your Dog On the Lips – According to a Berkeley study, just petting a dog lowers blood pressure and stress levels.  But an ongoing University of Arizona study reports the canine kisses themselves are helpful, too!  Dr. Raison explained that the dog works as a furry probiotic, helping build healthy bacteria colonies in the human owner.
Skipping Hand Sanitizer – Sure, you feel better about using a public bathroom when you use an antibacterial gel but a recent study in the "Oxford Journal of Clinical Infectious Diseases" found they may be doing more harm than good.  They get rid of all the bad bugs but all the good ones get wiped out too.  And the study author said they didn't work better than regular soap to prevent symptoms.
Scrub Your Kitchen Sans Chemicals – Don't like to use chemicals? Great! A study from the University of Arkansas says you can still get a perfectly clean kitchen.  "Obviously, situations like handling raw meat or someone being sick would warrant a disinfectant," study author and microbiologist Kristen Gibson told the "Wall Street Journal." "But for everything else, plain water is fine."
Share Food with Friends – Not only do you save on calories, but it can be good for your immune system as well.  Researchers from Stanford have found that sharing a little saliva with healthy friends and family members can help "build up your stock of good bugs."
Don't Brush Your Teeth After Every Meal – The American Dental Association says that brushing too much or too hard can actually hurt your teeth by eroding your enamel and hurting your gums.  And according to a 2012 study from the University of Chicago, brushing right away can drive the acid from certain foods, like soda, into your teeth instead of removing it.  Yikes!  They say it's better to wait 30 minutes to an hour.
Get Some Dirt on Your Hands (and in your mouth) – New research from Cornell University shows that the dirt your veggies grow in can be good you to eat!  People have been eating soil, called "geophagy," for a really long time because it protects the stomach from toxins, parasites and pathogens.  Healthy or not, I'll take my veggies washed, thanks.
Leave Your Food Out – Leaving out some foods to let the warm air cultivate healthy bacteria can help you make your own tasty probiotics, according to a 2014 study published in "Physiological Anthropology."  Researchers have found health benefits to leaving out food to ferment, like we did before refrigeration.  They say eating home-fermented foods can help boost your immune system and increase the nutrient content of the foods and even has mental health benefits.
What habit are you most likely to implement? Tell us in a comment below.