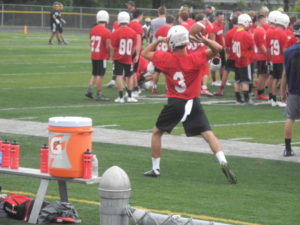 It was a record setting night for Wadsworth senior quarterback Joey Baughman.
Joey threw for 416 yards to set a Medina County record as the Grizzlies defeated North Royalton 61-28 in a game played at Serpentini Chevrolet Stadium. With the win, Wadsworth improves to 4-0 in the Suburban League and 7-0 overall.
The old record of 403 yards was held by another Wadsworth quarterback Mike Hoover set on November 5, 1999 in a playoff game against Midview.
In the game, Joey completed 21 of 32 passes for 416 yards and three touchdowns. Joey also ran for two scores.
Brock Snowball scored three touchdowns, two on the ground and on a 14-yard pass from Baughman.
Mitchell Blackburn caught 12 passes for 261 yards and a touchdown on a 74-yard pass from Baughman.
Next Friday, the Grizzlies will play Twinsburg at Art Wright Stadium. It's Homecoming night at Wadsworth High School.