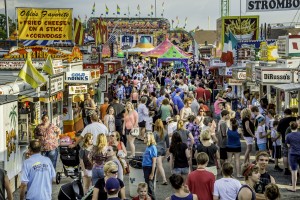 On May 2, the Blue Tip Committee announced the cancellation of the 2020 Blue Tip Parade due to the COVID-19 pandemic.
Then today (May 12), we interviewed parade chair Tom Morris on our morning show about the decision to cancel the parade and asked questions about the Blue Tip Festival, which he said won't happen this year.
"Rides will be impossible as ride inspectors were deemed 'not essential'," Morris said. He also mentioned there wouldn't be a logistical way to appropriately clean rides after each use.
"At this point, the Blue Tip Festival isn't going to happen. We're looking at something else," Morris explained. "Nobody wanted to cancel these things less than the committee. We are disappointed. We plan months ahead of time. We are doing it to keep everybody safe."
While Morris wasn't able to give a time frame for a decision on what "something else" could look like, he offered some potential options the committee talked about at their meeting on May 11:
1) A drive-up type of pick-up of fair food that's delivered to your car
2) A Blue Tip Festival in November
3) Combining some sort of Blue Tip-type festival with a First Friday event
Morris said safety is always top of mind and comes first so waiting and seeing what the virus does in the weeks and months ahead will play a big part in their decision to hold – or not hold – any type of Blue Tip Festival type of event.
PREVIOUS COVERAGE: https://wadsworthcommunityradio.com/covid-19-cancels-2020-blue-tip-parade/