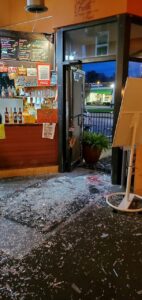 The Sub Station will be closed again Tuesday after an unexpected guest came through their entrance Monday night.
An 8-point buck crashed through the restaurant's glass front doors around dinnertime. The scared animal was inside for quite a while, flipping over tables and chairs, ripping a sink off the wall, and trying to escape by getting through the ceiling — among other damage.
Customers were inside when the deer barged in. Thankfully, no one was hurt.
The buck eventually exited a side door. High Street southbound was shut down for a period of time in the 6 o'clock hour. The owners say they will have to remain closed until the clean up is complete.
Owners Shelli and Matt Reed posted this message on their Facebook page: "Yes, we can all find some humor in this. Truth is, a poor deer was hurt severely and escaped and is suffering somewhere, first off. Secondly, we do have video and pictures that are not presentable to the public due to extremely graphic nature. Thirdly, this poor, scared animal caused thousands of dollars in damage to our shop and it will take days of down time to fix and hours of off time for our employees."
WATCH DEER CRASH THROUGH FRONT DOORS: https://youtu.be/qM2go4FUsf8
The Reeds are very appreciative to all who stepped up to help and to all that have offered to help.
"We hope to be opened back up very soon." Exactly when that will be though remains unknown.