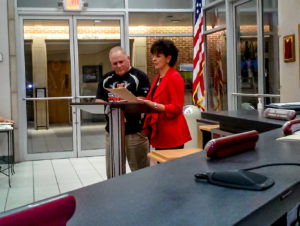 After 33 years as head wrestling coach for Wadsworth High School, John Gramuglia has decided to retire. John has been a teacher and coach for 38 years.
During his tenure as Wadsworth's head coach, John Gramuglia had a dual meet record of 369-78-1 with 26 Suburban League Championships, 17 Sectional titles, 4 District titles, 10 District Runners-up and 1 Team State Championship in 2010. His teams have placed in the top 10 in the State 22 times, including seven top 4 finishes, including a Team State Championship in 2010. John has coached 328 individual District qualifiers, 142 Individual State qualifiers, 94 individual state placers and 16 individual State Champions.
John and his lovely wife, Cindy, have been married 36 years. They have a son, Sean, daughter, Dana, daughter-in-law, Becca, and a 5 year old granddaughter. Beatrix.
"It has been an honor to teach and coach at a place that I consider one of the greatest high schools in Ohio," Gramuglia said. "Being a part of this wonderful journey for the past 33 years and watching it evolve has brought me great joy and given me an immense amount of pride for Wadsworth City Schools and the entire community of Wadsworth. The support I have had from the administration and Wadsworth families and students over the years has made it easy for me to enjoy our success."