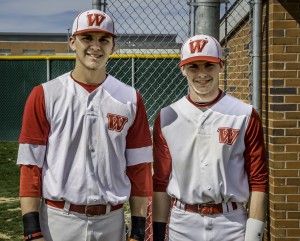 There are some very good reasons why the Wadsworth Grizzlies baseball team has enjoyed success early this season. Pitching and hitting have been 'lights out'. A stellar defense has helped.
The biggest reason? This is one talented baseball team.
Five seniors on this year's team have already committed to play college baseball next season. Two members of the Grizzlies' baseball team made their announcements this week. Nick Bebout signed his letter of intent with Walsh University. Adam Dennison announced that he will attend school and play baseball at Wheeling Jesuit University.
They join Riley Campbell who will be at the University of Toledo in 2015-16, Kyle Pennington who will play baseball at Baldwin-Wallace next season and Alex Laikos who will suit up for Kent State, Alex is unable to play for the Grizzlies this season because of an injury.
Wadsworth Head Baseball Coach Greg Pickard is proud to see his young men advance. "The goal is to get our kids prepared so they can move on in their careers. Plus, we have other seniors on the team who are trying to make their decisions. I hope we can find them all a place to play".
Bebout is excited to begin the next chapter of his basball career. "I like the school. The baseball program is nice. They told me that I would make a big contribution next year".
The Grizzlies are off to a hot start this season, with seven wins in a row. Let's hope that this win streak continues for this talented baseball team.