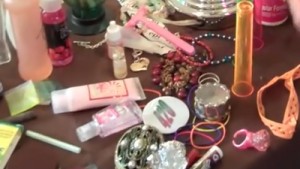 The traveling display "Hidden in Plain Sight" will be featured in the James R. McIlvaine Performing Arts Center at Wadsworth High School on April 8. The exhibit shows current drug trends and at-risk behaviors parents should be aware of.
Looks can be deceiving is the message behind this unique illustration created by the Bath and Copley Township police departments. The departments constructed what appears at first glance to be the bedroom of the average teenager.  But in the clutter of scattered clothes on the floor, school supplies on a desk and personal care products on a vanity are more than 150 items that can actually be signs that your teen might be involved in risky, dangerous and even illegal activity.
Attendees are encouraged to explore and interact with the items on display, items that may tell if your son or daughter is abusing alcohol or drugs, suffering from eating disorders, engaged in sexual activity and more.
"Hidden in Plain Sight" is free but only open for adults to attend. Kids and teens are not allowed. Doors open for browsing at 6:45 p.m. with a presentation from 7 p.m. to 9 p.m.