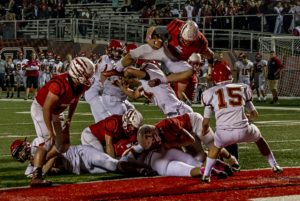 Wadsworth is the home of Ohio's Mr. Football for the 2017 High School season.
Quarterback Joey Baughman was chosen by the Ohio Prep Sportswriters Association as the best High School Football player in the state this year. Joey passed for 3,079 yards and ran for 1,523 yards this season. Baughman threw 36 touchdown passes and ran for 20 TDs in leading the Grizzlies to a 10-0 regular season record and a Suburban League Championship.
Overall, Wadsworth finished with an 11-1 record on the season.
It was a close race for Mr. Football. Joey was one of five players who received a first-place vote from sportswriters around Ohio.
Wadsworth averaged 50.8 points per game this year, largely due to "Joey Football."