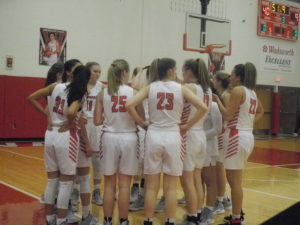 The Wadsworth Lady Grizzlies Basketball team continues undefeated in the Suburban League's National Conference following their 68-18 win over Brecksville-Broadview Heights Wednesday night at the Wadsworth High School Gym. Wadsworth had an 18-9 lead at the end of the first quarter and extended it to 40-9 by halftime.
The Lady Grizzlies were led in scoring by Kylie Batey and Maggie Long with 12 points apiece. Stephanie Andrews added a season high with 10 points. Kacie Evans and E'Anna Won chipped in with 8 points each.
The next action for the Lady Grizzlies is Saturday night when they host Nordonia at the Wadsworth High School Gym. The Lady Grizzlies are 11-2 overall and 7-0 in the Suburban League. Brecksville-Broadview Heights is 1-6 in the Suburban League and 2-10 overall.