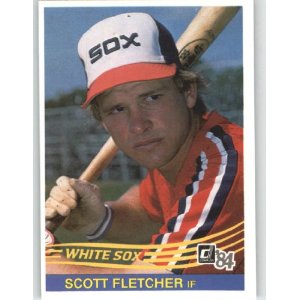 Wadsworth's own Scott Fletcher played 15 seasons in Major League Baseball between 1981 and 1995 with six different teams. He accumulated 1,376 hits in his Big League career. Scott's trip to "The Show" started right here in Grizzly Town.
Scott is now a minor league coach in the Detroit Tigers organization. He's based in Atlanta, Georgia. But Scott travels the country to instruct and coach the eight minor league teams that the Tigers have in their player development system.
In coaching those minor league prospects, Scott uses some of the lessons he learned while playing at Wadsworth High School.
"I have great memories of Wadsworth. It was a great community when I was growing up. I always think about walking on the sidewalks to go downtown and stop at Ann's Bakery to get a cream stick. I remember Durling Park, Overlook School, where I went to school, Lincoln School, Wadsworth High School."
And in the 60s and 70s, Scott Fletcher played a lot of youth baseball in Wadsworth. "We used to go up in the summer time and play baseball all the time. I'd play baseball with my brother and our friends at Durling Park, Overlook School, Miller Field all those places bring back a lot of memories."
"My dad played professional baseball. He played semi-pro baseball in the Akron Double-A League and my brother and I would always go with him to the various parks where he'd play. In Wadsworth, I played Little League there and had access to all the parks," Scott said. "I had so many friends in the neighborhood. It was a great neighborhood. It was a great atmosphere to get out and play with your buddies."
Scott's baseball carreer went from Wadsworth High School to college at Georgia Southern University, Valencia Community College and the University of Toledo. Professionally, Scott played with the Chicago Cubs, the Chicago White Sox (twice), the Texas Rangers, the Milwaukee Brewers, the Boston Red Sox and the Detroit Tigers.
His coaching career has put Scott Fletcher in uniform with the Atlanta Braves, the Houston Astros and the Detroit Tigers.
Scott's career batting average in the Major League was .262. More impressive was his fielding percentage in the majors. Playing as a second basemen, shortstop and third basemen, Fletcher's fielding average in the big leagues was .980.
While Scott Fletcher hasn't been back to Wadsworth "in a while," he talks talks with fellow Wadsworthian, retired NASA Astronaut Mike Foreman, about growing up here.
Our thanks to Scott Fletcher for being a guest on Wadsworthian Wednesday!