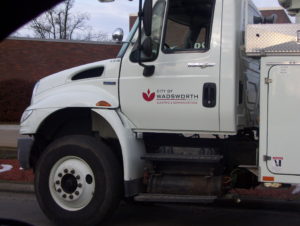 The city of Wadsworth and six Line Workers from the Wadsworth Electric Department have received a copy of a resolution passed by the Shelby City Council thanking them for their assistance in restoring power to the community following the April 14th tornado that struck the community.
In all, 15 communities in Ohio and Michigan were officially thanked by the city of Shelby, Ohio
Among the Wadsworth Electric Department employees named in the Shelby City Council resolution were Bill Lyren Junior, Jason Howard, Luke Truman, Lance Purviance. Trevor Alexis and Bob Lindeman.