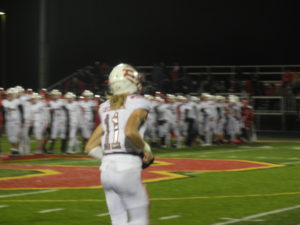 It was quite a night for the Grizzlies and for wide receiver Jack Simmons. The Grizzles are back-to-back champions of the National Conference of the Suburban League. At a rainy Brecksville-Broadview Heights High School Football Stadium, Wadsworth defeated the Bees 33-0.
Simmons, a senior, scored his first touchdowns in his Grizzlies career.
It didn't take the Grizzlies long to grab the lead. Wadsworth recovered a Brecksville on-side kick to start the game at the BBH 43. Four plays later, Grizzly quarterback Trey Shafer completed a 15-yard touchdown pass to Simmons. 1:23 into the game, Wadsworth took a 7-0 lead.
The Grizzlies scored twice more in the first quarter. Shafer hooked-up with Simmons on a 19-yard pass for the second TD. Dom Loparo scored the third Wadsworth on a 12-yard scamper up the middle to make the score at the end of the quarter 20-0.
The Grizzlies scored on the second last play of the second quarter when Shafer tossed a 48-yard touchdown pass, his third of the game, to Barret Labus. The two-point conversion was missed. It was Wadsworth 26 Brecksville-Broadview Heights 0 at halftime.
The final Wadsworth touchdown came on a 20-yard touchdown run by Brock Snowball in the third quarter.
Next Friday, the Grizzlies will go for back-to-back 10-0 seasons when they host Hudson at Art Wright Stadium on senior night.