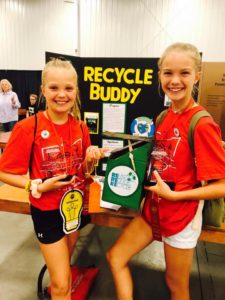 Wadsworth 6th graders Ella and Amelia will compete in the National Invention Convention next year after placing at the state level over the weekend.
Their invention is "The Recycle Buddy" and it took 2nd place for 6th grade in the State of Ohio Invention Convention held at the Ohio State Fair.
"We always struggled putting our recycling into the single stream recycling bins (located throughout Wadsworth and other cities) while simultaneously holding up the lid," the girls explained. "The purpose of The Recycle Buddy is to help people from getting discouraged from using the bins, especially older people and those who are short in stature like we are!"
The Recycle Buddy is an arm on the side of the bins that when turned holds the lid open for you so that you can put your recycling in using both hands. The Recycle Buddy will make the dumpsters easier to use and the ultimate end result: making Planet Earth more sustainable.
"Be a Buddy to Planet Earth and recycle"
The girls will compete at the National Invention Convention in May.
There were nearly 500 young inventors from grades K-8 in the State competition.