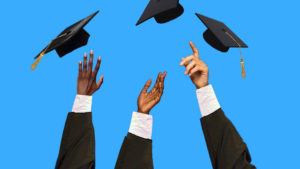 Could there still be a traditional graduation ceremony for Wadsworth High School seniors on June 28?
The Wadsworth School Board voted 3-2 at their June 8 meeting to ask the State for an exemption on the 10 person gathering rule to allow the district to have the traditional graduation ceremony at Art Wright Stadium.
"To be clear, the only way we will be able to hold a traditional commencement ceremony on June 28, following social distancing requirements, is if the Director of Health and Governor take the action the said resolution is requesting and our resulting plan for the traditional commencement ceremony is approved by the Medina County Health Commissioner," the board of education outlined in their request.
Wadsworth moved commencement from May 24 to June 28 in hopes that conditions would allow for a traditional ceremony at that time due to COVID-19. But the Ohio Director of Health recently extended the 10 person or less mass gathering rule until July 1. Provided the said order remains in place, and no other order is passed regarding commencement ceremonies,  Wadsworth will move forward with their backup ceremony plan on June 28.
The back-up plan, which was chosen by a vote of 2020 graduating seniors from two options, and given approval by the Medina County Health Commissioner, involves the commencement ceremony being held in the Wadsworth High School student parking lot, with graduates and families in their car. Each graduate would be allowed to get out of his/her car to receive his/her diploma and take a picture. Wadsworth Community Radio would broadcast the ceremony live so all vehicles could hear it simultaneously and loved ones of seniors near and far, who couldn't be there in person, could also listen to the commencement.
We will keep you posted on this developing story as soon as we hear from the BOE what the State's decision is about their request to hold a traditional graduation ceremony at Art Wright Stadium.