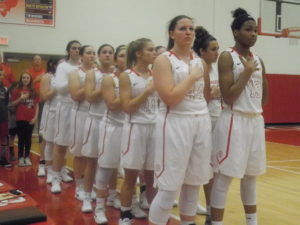 Wadsworth's Peyton Banks hit 2 three-pointers in the first minute of the game as the Lady Grizzlies ran over Mentor 66-33 in the final game of Day One of the Believe Roundball Classic at Wadsworth High School.
Wadsworth had an 18-9 lead at the end of the first quarter. The Lady Grizzlies increased the advantage to 32-19 at halftime. The lead grew to 30 (53-23) at the end of three quarters.
Kacie Evans led the Lady Grizzlies in scoring with 11 points. Lexi Lance and Sophia Fortner had 10 points apiece. In all, 10 Wadsworth players scored at least one point.
The Lady Grizzlies play the final game of the Believe Roundball Classic against Olmsted Falls Thursday night at the Wadsworth High School Gymnasium. Game time is 7:30.