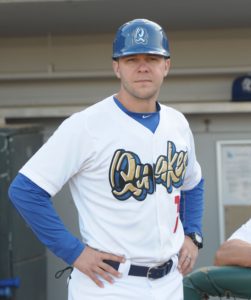 The Rancho Cucamonga Quakes have made the playoffs as a Wild Card team in the Single-A California League. The team is managed by Wadsworth Athletic Hall of Fame member Drew Saylor.
The Quakes finished with an overall record of 79-61. That's the most wins the franchise has had since 2011.
This is the first year that Drew Saylor has managed with Quakes, which is an affiliate of the Los Angeles Dodgers. In 2015, Drew was a coach in the California League with the Modesto Nuts, which is an affiliate of the Colorado Rockies.
Drew says there is a big difference in being a manager of a minor league baseball team as opposed to being a coach. Drew says he is responsible for the entire team, which means 35 to 40 players and coaches. As a coach, Drew says, he was responsible for 10-12 players.
With Rancho Cucamonga being so close to Los Angeles, Drew has had 16 members of the parent team suit up for the Quakes on rehab assignments. Among some of the Dodger players that Drew has 'managed' include Clayton Kershaw, Yasiel Puig, Howie Kendrick, Bud Norris and Andre Eithier.
Tonight, Rancho Cucamonga will host the Lancaster JetHawks in the first game in the best of three series. Games Two and Three (if necessary) will be played in Lancaster.
(Thanks to Steve Saenz for the photographs.)