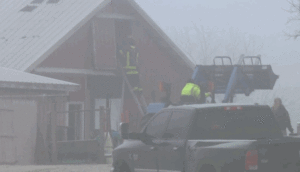 A fire ripped through a livestock barn at AM Farm on Tower Road in Medina on Monday, killing most of the animals trapped inside.
The farm owners say the blaze broke out at 7:30 a.m. on March 18.  Sheep, rabbits, pigs and a horse who were trapped inside, died. Only a few pigs survived, according to the owners.
Fire officials tell WKYC heat lamps inside the 80 x 100 foot barn were to blame for the fire.
A GoFundMe page has been set up for AM Farm. They are asking for $10,000 to help rebuild the barn and to replace farm supplies and animals. As of the morning of March 21, they were just over $3,000 away from reaching their goal.
AM Farm is "a small, family farm providing food to families that care about what they put on their plates."