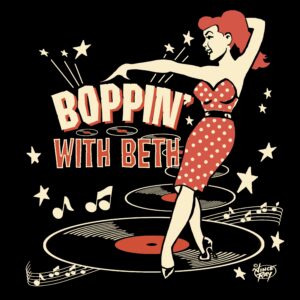 Boppin' With Beth with Beth Riley features music from different decades and genres and a special "focus beam" artist each week. She will play some of their music, influences and tell a lot of background on them.
Boppin' With Beth will air Sundays at 7 p.m. on Wadsworth Community Radio.
In her "Rockabilly Rewind" segment, a vintage track is played from way back and the 57-minute show always ends with some recent tunes from others as well.
Past "focus beam" artists show the wide variety:  George Strait, Joan Jett, The Smithereens, John Fogerty, Robert Plant, Jackson Browne, Muddy Waters, Chris Isaak, Chuck Berry, James Taylor, Dion, Gene Vincent, Eddie Cochran, Roger Miller, The Judds etc.
Beth has extensive on-air radio DJ and production experience, as well as conducted exclusive interviews with artists such as Keb' Mo', The Boxmasters (Billy Bob Thornton), Bruce Iglauer (Alligator Records), Mitch Mann (Fiddleworms), David Hood (The Swampers), Jimmy Hughes ("Steal Away"), James Counts (The Midnighters), Paul Thorn, Kenny Neal, Southern Halo, Phil Vassar and so many more. Her " Surf's Up: Beth's Beach Boys Break" segment can be heard weekly worldwide on her husband, James' Catching A Wave. They also do an Artist Spotlight Podcast Series interviewing musicians, actors and anyone of interest. She launched her new syndicated radio show called Boppin' With Beth in the fall of 2020.
Riley also co-owns Old Fashioned Radio Publicity with James promoting artists in the Americana, Ameripolitan, Blues and Roots genres. They live in Joplin, MO in the beautiful "Four States" area.
For more information, check out:
https://www.mixcloud.com/BethRiley1969/
https://boppinwithbeth.blogspot.com/
https://artistspotlightpodcast.libsyn.com/
Contact Beth Riley: bethriley1969@gmail.com