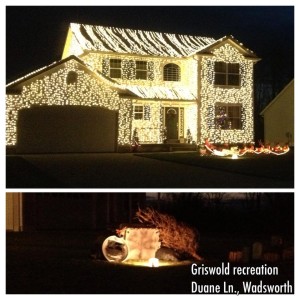 There is so much to do with the family this weekend!
All weekend long, you can take a ride on the North Pole Express at Wadsworth Airport to see Santa's Workshop!! A sleigh will pull the plane through the Aurora Borealis and into the workshop where Santa and his elves will be working on making wooden airplanes. Flights leave every 40 minutes. Each flight accommodates 5 passengers. Cost is $35 per person. To book your flight: 330-334-9861.
You can enjoy a free Christmas concert by the Wadsworth Community Band & Community Choir. The performance begins at 2 p.m. Sunday at OJ Work Auditorium. Refreshments and a raffle will follow.
The newly restored Magical Theatre Company in Barberton presents Cinderella, playing Dec. 4-20. This holiday production has all the moments you love – the glass slipper, pumpkin coach, wicked stepsisters, Fairy Godmother, Prince Charming and more. Plus, it's the grand re-opening of the newly renovated theatre! Details: http://bit.ly/21BsDmM.
You may choose to take the kiddos to the free Kid's Workshop at Home Depot. This month, kids will make wooden holiday stacking blocks. It's this Saturday from 9 a.m. – noon.
The Candy Land & Candy Land Express train is back at Beech Creek Gardens in Alliance. The amazing garden is turned into a wonderland of warm and inviting winter amazement and learning for kids of all ages to enjoy. More info: http://bit.ly/1O7z4UX.
Trains, planes and all things that go will be on display at the Medina County Community Center for the Medina Railroad & Toy Show. Enjoy scenic operating layouts, train sets on display and some for sale too. Details: http://bit.ly/1SCcMOW.
The Chalet at the Mill Stream Run Reservation (part of the Cleveland Metro Parks) in Strongsville has two 1,000-foot refrigerated ice chutes for tobogganing. They can operate with or without snow and are open now through the middle of March. Admission rates do apply: http://bit.ly/19rc719.
Of course you can always check out some fabulous Christmas lighting displays across NE Ohio. One Wadsworth family does a tribute to National Lampoon's Christmas Vacation. It's a sight to see, friends! Check out where to see it and others: http://bit.ly/1umdpOJ.
See the full list of things to do this weekend via NE Ohio Family Fun: http://bit.ly/1PE2gsS.
**Tina's Travels is graciously supported by Three Roses Gift Boutique (the pink store) in downtown Wadsworth!**