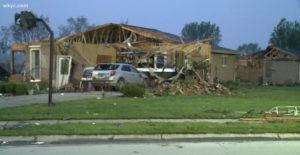 The severe storms that rolled through overnight caused extensive damage and widespread power outages in many Ohio communities. As residents work to pick up the pieces, insurance companies are busy responding to calls and helping policyholders cover their losses.
"Our hearts go out to all of the home and business owners who have been impacted by this latest round of severe weather," said Ed Conley, director of Insurance Sales and Financial Services at AAA Ohio Auto Club. "Clearly the first order of business it to protect yourself and your family. With another round of storms on the way, protecting your property from further damage is also key."
Now that the storm has passed, here's some advice on what to do next:
Survey The Damage: Take a walk around your home, photographing damage to your property inside and out if safe to do so. Don't enter standing water unless you know the electric is off and keep an eye out for broken glass and exposed nails.
Stop Further Damage: With the potential for more rain on the way, go ahead and make temporary repairs to stop further damage. For example, use plywood and tarps to cover any broken windows or missing shingles. Make sure you save your receipts so you can be reimbursed for these items by your insurance company.
Call Your Insurance Company: Report the damage to your insurance company as soon as possible and talk with them often. Have a conversation with your claims representative before you have any repairs made to make sure they are approved.
Select The Right Contractor: Choosing the right contractor to complete the repairs is a very important step and shouldn't be done without some research. Make sure you ask plenty of questions and select a reputable, trustworthy company. Confirm that the contractor is licensed and insured and be cautious of scams.
"While weather damage is covered by your home policy, flooding and water back-up may not be," added Conley. "If your power is out, your sump pump will not be able to prevent water from entering your basement. A generator may be a good option until power can be restored."
Those unsure about what their insurance covers, should check with their insurance agent.