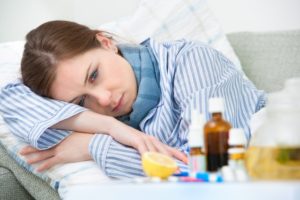 While Ohioans worry about the novel coronavirus, and the Buckeye State awaits results of a person under investigation for the illness, the Medina County Health Department wants to remind you about another major health threat that seems to be getting lost in the mix.
"People tend to worry about the exotic and unknown because it is our nature," said Krista Wasowski in an email to Wadsworth Community Radio. "To put it in perspective, the U.S. has had more than 10,000 influenza deaths already this flu season."
The Centers for Disease Control and Prevention (CDC) reports 19 million Americans have been infected with the flu so far this season, and 180,000 of them have been hospitalized because of their illness. In Medina County, Wasowski says influenza B has been more common than the "A" strain.
The CDC also reports the flu virus has killed an estimated 10,000 people in the U.S., including 68 children (two in Ohio). Health officials say this flu season is shaping up to be "one of the worst in years."
"You can rest easier knowing we (local and state health departments) pay attention to these illness – and so many others – 24/7," explained Wasowski.
In contrast, the Wuhan coronavirus has infected more than 28,000 people and killed 565, according to data gathered by Johns Hopkins University in this Yahoo News article. The University has created this map to see where the coronavirus has spread.
Each Tuesday and Thursday, the Ohio Department of Health will update their website to reflect confirmed and investigated coronavirus cases. You can find that HERE.
On the Medina County Health Department's website, you can find weekly flu reports for the area.
To read more in depth information about the flu virus and novel coronavirus, check out this Yahoo News article.